History
Animotion is owned and managed by Sonia Labarre. She has had animals her whole life and has over 25 years experience handling and owning large breed dogs.
Sonia currently shares her life with two beautiful Briards as well as a small parrot, an old and very enthusiastic Thoroughbred (rescue) and several other creatures.
In the past 22 years, Sonia has been involved in all types of activities such as, obedience (positive reinforcement), conformation, agility, clicker training etc.
An interest in rehabilitation developed in 1998 when having to rehabilitate her 9 year old Bouvier des Flandres after major reconstructive knee surgery. Drawing on her 25 yrs of resistance training experience along with veterinary support, her Bouvier enjoyed a speedy recovery to full mobility with a great quality of life to the respectable age of 14.
The centre opened its doors in 2006. Since then, with the help of her amazing team of therapists, Sonia has rehabbed hundreds of animals through 10 000 swim sessions.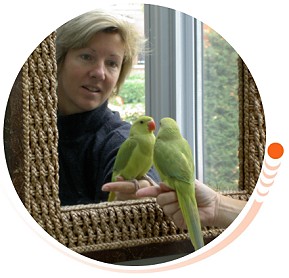 "I am very proud of what has been developed and accomplished over the last twelve years and I wholeheartedly thank my staff for their interest, their questioning, their observations and their continued dedication to our clients and the center. I am equally proud of our customers (animals and humans). Their trust and diligence in carrying out all that they are asked to do at home (or at the stable), the supervision and support of their veterinarians of classical medicine and complementary medicine throughout the recovery process, has undoubtedly helped to maximize the positive results for each animal.
I wish with all my heart that this collaborative effort persists and hope that it evolves in order to continue to bring maximum wellbeing and quality of life to our animals and maximum empowerment to their owners."
                                                                                                               - Sonia Labarre