Testimonials
Lucie Leclerc & Suzanna Widrig - Bleikur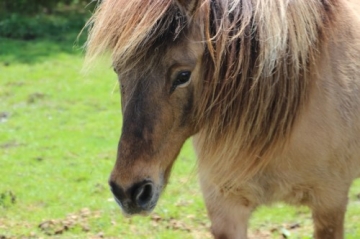 Bleikur is a 22 years old Icelandic gelding. Sonia came to do a physio treatment when he was 21 years old. His hind legs were stiff both in movement and when standing. He always seemed to be pushing against the ground. When asked to lift his hind feet, he would start slowly and then snap the heel off as if unlocking the whole leg. He was stiff from the buttock to the heels. Although we did TTouch and he had been seen by a vet who treated him with osteopathy and acupuncture, the benefits did not seem to last. After Sonia worked with him, his muscles felt more relaxed, his movements were more fluid and he could lift his hind feet easily and smoothly. Mostly, the effects of the physio session lasted for a good 6 months. I highly recommend Sonia for anyone who wants a good program of rehabilitation, as a support system to a good training program and even as a preventative approach.
Lucie Leclerc & Suzanna Widrig
---
Charles Robinson & Joseph Montanaro - Jasmine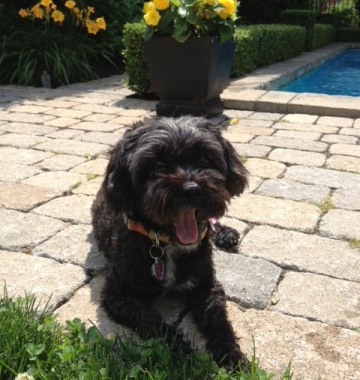 My dog Jasmine had back surgery following a disc herniation and there were unfortunate complications. After her second surgery, Jasmine's hind quarters were paralyzed and the veterinary orthopaedic surgeon was not sure how much movement would come back. I was frantically searching for someone who could assist Jasmine in her recovery. I was very happy to have found Sonia and her staff. Sonia met with Jasmine for the initial assessment and provided me with a full treatment plan, including free training on T-touch to help Jasmine regain some feeling by being stimulated. After the 1st session, my anxiety level significantly decreased and my hope for a full recovery had increased! Sonia not only possesses the intellectual ability, but more importantly, the healing energy that permuates from her loving soul. Her staff are professional and always took extra special care of Jasmine. Jasmine very quickly regained mobility and sensation. After approximately 1 yr Jasmine has just a minor "skip" in her left hind leg! I believe that if it hadnt been for Sonia's expertise Jasmine would not have made the recovery she has! We have enjoyed many many long walks and happy moments thanks to Sonia and her team.
Charles Robinson, Joseph Montanaro, Jasmine & Max
---
Dakota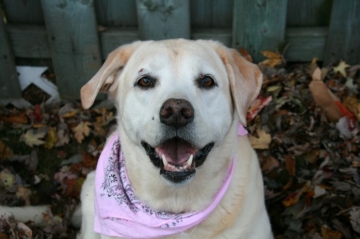 This is Dakota, my best friend. She is 13 years old and loves swimming and anything edible.
In October of 2011, she tore the ligament in her right knee and had to have TPLO Surgery (Tibial Plateau Leveling Osteotomy). She developed arthritis due to this but was doing relatively good after her recovery. Then in May of 2013, a tumor the size of a basketball weighing nearly 12 lbs was discovered on her spleen. She underwent surgery to remove the spleen & tumor and recovered well. During the summer of that year the pains of arthritis started to kick in. She was in pain, losing muscle mass and becoming weaker. She could barely cross the street without having to lie down to have a break. We went to the vet to see how we could help her. The vet recommended some medication to alleviate the pain and she suggested Hydrotherapy at Ani-Mo-tion.
We started hydrotherapy in November of 2013. All I can say is, WOW, what a world of difference this has done for Dakota. Hydrotherapy allowed her to regain muscle mass in her hind legs making her stronger. We went from Dakota not wanting to play; struggling to walk across the street; not wanting to go up on the bed; needing help to stand up TO her going for 2 walks a day (without falling), sleeps on the bed, wanting to play for a few minutes a day and being able to stand up on her own. She can even run (with some help). Her whole demeanor is different; she is happier, healthier and stronger. It's like we went into a time machine and went back 2-3 years.
Sonia, Ginette and Danny are wonderful. They really care and take the time to meet Dakota's needs. Dakota does not socialize well with other dogs and everyone makes sure that she and the other dogs are safe and do not cross paths. Sonia also introduced us to TTouch, which has helped Dakota with her breathing as she suffers from Laryngeal paralysis. Sonia and her team are very well trained and have a wealth of knowledge to aiding animals to having a better quality of life.
Sonia, Ginette and Danny, thank you so much for all that you have done for Dakota.
Melanie, Liz, Mike, Melissa, Ken and Dakota
---
Suzanne St-Martin - Maggie
I would like to recommend Sonia Labarre as a graduate and expert in the "Tellington Touch" method. If only Maggie, my beautiful Kerry Blue, could talk, she would tell you in much better words and more eloquently what Sonia represented for her during last few months with us.
At the age of 12, Maggie was diagnosed with a pharynx cancer. She had trouble breathing and her repeated sneezing made her very uncomfortable. Even with medication her quality of life was not what my little girl deserved. Each time she sneezed, secretions from her throat and sinuses came out through her mouth and nose. When she attempted to drink, she was making all sorts of snoring noises and the process was long and arduous. I knew she could not be cured, but all I wanted was to make her last weeks or months among us more pleasant.
After talking to Sonia, she enquired if I wanted her to try Tellington Touch on my girl. I knew nothing about this method. All I wanted was to improve Maggie's remaining life on earth. Even if her days were counted, her quality of life was of paramount importance to me.
Following the very first session of "touch", I saw Maggie becoming more relaxed in a way she had not relaxed for a very long time. After the session, she was almost asleep. The very next day, she started to sleep better, breath better and her secretions had decreased. In the course of the last months of her life, she had the best quality of life that I could provide. With Sonia's expertise, she was giving Maggie what she deserved. She was eating more and could drink more easily. At night, she could sleep more peacefully.
I cannot think of Maggie's last months with us without mentioning that, while coming to the house to take care of Maggie, Sonia also practiced her method on my male, Lofty, who had the bad habit of jumping on people as they came home. After two or three sessions, this bad habit had disappeared. Furthermore, in addition to physical benefits, this method can also benefit the mental side. In fact, he became more receptive and more attentive to his surrounding and now has more power to concentrate and learn new tricks..
I still continue to practice what Sonia has taught me and, as Lofty loves being handled and touched, he asks nothing else but. As he gets older, these sessions will surely improve his motion and help to keep him younger and more active.
Thank you wholeheartedly, Sonia
Suzanne St-Martin
---
Maya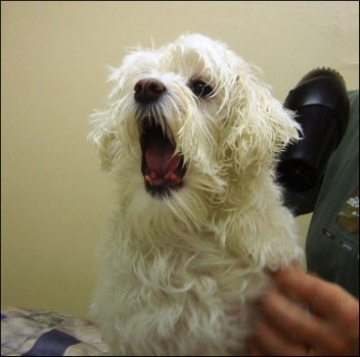 Hello, 
My name is Maya . I am a 2 yr. 9 mo. old pure-bred Bichon-Maltais. I was born with a defect known as the luxation of the patellas (apparently common to my race). To repair the problem I underwent surgery on my left leg in Feb. 2006. Unfortunately, with time, it was discovered that the operation wasn't as successful as originally anticipated.
I was introduced to Sonia in Jan. 2007. Coupled with kindness and patience she succeeded in helping me to regain muscle mass strength in my back legs. Her program of T-Touch and aqua-therapy worked wonders. Once these sessions were completed Sonia suggested a program of activities to help me to maintain a continued improvement. 
Within a few weeks a pool will be installedat home, for my usage, which will help me to resume my aqua therapy keeping my back muscles in top condition. With all of this T.L.C I will be able to live a normal, happy and playful doggy life.
Thank You, Sonia. Love,
Maya 
---
Farfel
Dearest Sonia
How will we ever be able to thank you enough?  Here is our story:
As you know, our Collie/Sheppard, Farfel was stricken with severe pneumonia mid-August.  Test results the day we brought him in to the Veterinarian's office were so poor that he wasn't expected to live through the night.  They put him on intravenous antibiotics, and miraculously he pulled through.  The Vet and her staff treated him with kid gloves, and were very kind and warm to him.  Farfel, reacted to their warmth, but was very weak.  The only way to get him to walk at all was with two towels around his abdomen near his legs for support.  He could not bear his weight at all.  After a neurological exam, Farfel was sent home with the hope that being among his people and his own environment would encourage him to try to improve.
Neurologically, there was nothing wrong with him.  The Neurologist suggested that if we could find a pool and get Farfel to swim, the non-weight bearing exercise could help him.  Little did we know that the entire veterinary staff did not give Farfel much chance of ever walking again.
Once home, Farfel took up residence on a large area rug we brought in for him to lie on.  He would reluctantly go for a walk supported by towels, and refused to do his business outdoors, almost immediately relieving himself soon after we brought him in.  He would eat lying on his side, and we were obliged to position his bowl under his snout.
This started to take a toll on our family dynamic, with many arguments about who's turn it was to carry the dog.  Arlene contacted the Veterinary School of the Université de Montréal in Ste-Hyacinthe and they gave us Sonia's contact information. 
We met Sonia for the initial T-Touch session, carrying Farfel into her office in a blanket.  He reacted well to the T-Touch, and we decided to give it a try.  We decided to give him two weeks to start showing some improvement.  Had nothing happened, we would probably have made the decision to put Farfel down.  Within two weeks, (four sessions in the pool), a miracle had occurred.  The dog was starting to sit up on his own.  We were able to walk him with only one towel around his hind legs.
We have now been seeing Sonia for almost four months, and Farfel, has returned from the dead.  He goes up and down stairs, climbs on the couch, and can even get up on our bed.  When the door bell rings, he actually trots to the door to bark at whoever is there.
As I said at the outset, without Sonia and her aqua-therapy pool, our Farfel would be dead.  The therapy has helped strengthen his muscles, and has even permitted some rebuilding.  It also helps his arthritic, dysplastic hips. We will continue visiting Sonia for weekly sessions as long as we have Farfel, and recommend her to any of our friends with older animals.
Arlene, Wesley, Shimon, & Avraham Gorin  & especially Farfel
---
Gilian Bank  - Tara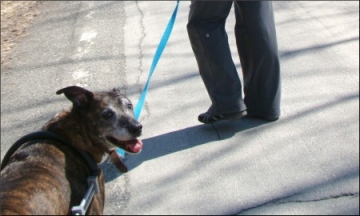 "When my dog Tara was diagnosed with degenerative myelopathy in early 2009, a progressive disease which affects the spinal cord and the back legs initially, a specialist vet at St-Hyacinthe Veterinary Hospital recommended Animotion.
Swimming has helped slow down the progression of this disease and although Tara can no longer walk without assistance, she can move all four legs in the pool. She retained her mobility longer than she would have without this intervention. Swimming allows her to exercise and just as importantly helps her to experience a freedom and mobility which she doesn't have on land. I believe this has helped her to cope better with her disability, just as people who can no longer walk often report a similar psychological response when they swim. In addition to swimming, the other methods used by the Animotion team helped a nervous dog, struggling with a disability, to feel safe and happy.
Animotion is a warm, supportive environment for both Tara and myself. Bringing Tara to Animotion has allowed her to keep a certain quality of life and has helped me learn about how best to help and support her, when no other help or support was at hand. I am grateful that his type of service exists. It has made a huge difference in both of our lives.
Gilian Bank
---
Ruth Ann - Susie
Meet Susie, my 12-year old "puppy." I adopted her when she was about two. Already at that young age, she had been shunted around between several homes (we were at least her third family), lacked training and socialization, and was in poor physical condition: she was so morbidly obese that she could not even fetch a ball. Today, thanks to proper nutrition, hydrotherapy, and T-Touch, she's in fine form in spite of suffering from osteo-arthrosis in most of her joints. In fact, when you watch her frolicking in the snow in this video, it is hard to believe that three years ago, her former vet told me it was time to start thinking of "letting her go." Thankfully, I refused to take that as an answer and sought a second opinion.
Labrador Retrievers often suffer from joint problems. Susie's early weight problem, lack of exercise and poor nutrition set her on a bad course for her later onset of osteo-arthrosis. But Susie was especially unlucky and developed torn cruciate ligaments in both of her back knees--one fully ruptured and one partially. She underwent a very successful surgery for the worst leg, and after much deliberation, her surgeon and I decided to postpone the second surgery and give hydrotherapy a chance to rehabilitate and strengthen her muscles. Susie has undergone weekly therapy at Animotion for the past year and a half, and the improvement is remarkable. It looks like she will probably not need the second surgery. Three years ago, she was unable to walk to the park (a slow 5 minutes), but today, we easily do two thirty-minute walks each day (with playtime in the park, of course, where she keeps up with two much younger and very rambunctious Labs!). I realize that I might not be the most objective source, but even my neighbours regularly comment on her progress and exclaim at how well she is doing.
Hydrotherapy has been the key to managing Susie's condition, and I owe Animotion a great debt of thanks. I do not believe that Susie would have had such a high quality of life--or even the longevity she enjoys--had it not been for Sonia and her skilled team. They have shown me that osteo-arthrosis is entirely manageable, and they have given me back quality time with my best friend. I know that I will always have to manage her condition (and keep her from jumping off staircases and snowbanks--because she tries!), but I feel confident that we're in competent, capable hands that will see Susie through her golden years.
Ruth Ann
---
Lee Rudge
While Sonia was attending a Practical Training at our facility, Woof N Water, she saw one of our clients with a Staffordshire Bull Terrier named Bella. Bella had previously had a bad experience at another Hydrotherapy pool and she was extremely nervous and tense. I thought this would be a good time for me to see if TTouch could do anything in a couple of minutes. Sonia placed a wrap around Bella and did some TTouch touches on her. After a couple of minutes Bella had calmed down slightly and I began to swim her. The swim from Bella was definitely more relaxed and less stressful for her. So this could certainly assist Sonia with her hydrotherapy.
Lee Rudge - Hydrotherapist & Animal Physiotherapist- Member of the International Association of Animal Therapists
Owner of Woof 'N' Water Ltd., West Midlands, UK